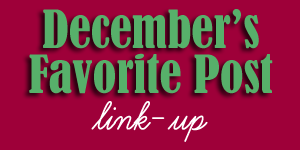 It's the second month of the favorite post link-up and it is SUPER exciting because November was a huge hit! There were tons of awesome posts submitted in November and our hope is that December will be even bigger!
This month there are a couple of guest hosts joining the mix that will have the link-up on their blogs as well to spread the love even further throughout the blogging community. Be sure to check out their blogs to find out their favorite posts!
This month's hosts include:
My favorite post of the month is:
JOIN US BELOW!